Xiaomi AmazFit Powerbuds True Bluetooth Earphone Black!
Heart Rate Monitoring during Exercise – Removable Magnetic Ear Clips – 24 hours of Total Autonomy – Resistance to Sweat, Rain and Dust – Special Sound System for Sports Practice – ENC Dual Microphone – Touch Control
Amazfit Powerbuds, Xiaomi arrives with the best bluetooth wireless headphones.
These are headphones designed to enjoy our music anywhere and under any circumstances. But above all, they are ideal wireless earphones designed to be enjoyed while practicing sport.
They include a heart rate sensor, a sports sound system, a microphone and are resistant to sweat. We can control them by touch.
Heart Rate Monitoring
Heart rate is a very important factor to consider when exercising to know how effective it is.
That's why these Amazfit Powerbuds are equipped with a PPG heart rate sensor, capable of accurately monitoring your heart rate and keeping you informed about the status of your training.
Also, your headphones will alert you when your heart rate exceeds the pre-set value, making your training safer and more effective.
Removable Ear Clips and Extra-comfortable Design
Of course, Amazfit Powerbuds shine with their own light.
The outer shell is smooth and has a radial design, providing energy and a great sporty look.
And if you're going to work out, you might want to consider the unique removable magnetic ear clips, which improve their fit and stability.
When you don't need them, you can remove them and store them in the charging case.
24 Hours of Music on a Single Charge*
Don't worry if you're going on a long train journey or if you have a long, hard day away from home. Amazfit Powerbuds give you all the energy you need.
They provide up to 8 hours of music playback. But that's not all. Their magnetic charging case can add up to 16 hours of extra power, so you can enjoy a total of 24 hours of music without charging them. Bring more power to your music!
*Autonomy is subject to playback conditions, such as type of music, volume level, heart rate sensor use, etc.
Special Sports Sound System
Another reason why these headphones are perfect for sportsmen and women is their professional sound system, which makes exercise more immersive and dynamic.
These Xiaomi Amazfit Powerbuds feature a high-sensitivity magnet with a diaphragm capable of producing a clear and powerful frequency.
Motion Beat Mode for maximum motivation while working out.
This ensures great sound quality. In addition, you can activate the Motion Beat mode, which improves the sound of the bass while you exercise and makes the rhythm of the music you listen to clearer and more powerful.
You can also activate the Thru mode or "ambient noise enhancement" when training outdoors to keep you away from the noise of the city.
IP55 Water and Dust Resistance
No fear of sweat, rain or dust. This is how Amazfit Powerbud users feel. They have an IP55 rating of water and dust resistance.
This protects the components from dust, rain and sweat, so you don't have to worry about anything but your training, whatever the weather conditions.
TWS Headphones, Truly Wireless
After they have been set up for the first time, Amazfit Powerbuds are automatically synchronised when they are removed from the case.
These Powerbuds have built-in in-ear sensors with intelligent detection function to start playing the music as soon as you put them in and to pause it when you take them out.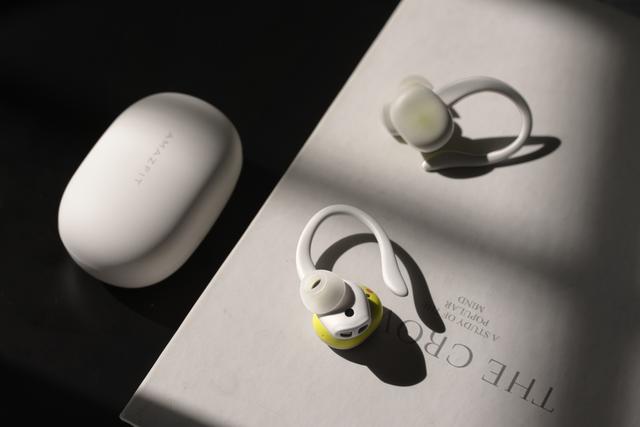 Noise-cancelling Dual-microphone
But Amazfit Powerbuds aren't just headphones, since you can also make calls with HD sound quality.
This is due to their dual ENC microphone with noise reduction technology, which makes them sound clear, thus inhibiting ambient sounds and background noise.
One Touch to Control Your Headphones
In addition, both headphones can be customized to control playback with one and two touches.
So you don't have to take your smartphone out of your pocket to start/pause playback, skip tracks or answer/reject a call.
Precise Heart Rate Monitoring During Exercise with PPG Sensor, Real-Time Notifications for Workout Status and Excessive Heart Rate Data.

Magnetic Sport Ear Hooks for Increased Stability, Easy to Remove and to Store.

8 Hours Battery Life on a Single Charge and 24 Hours with the Charging Case.

Professional Sports Sound System Brings Immersive and Dynamic Sound.

ENC Dual-Microphone Noise Reduction for HD Calls. IP55 Water & Dust Resistance. Truly Wireless, Wear Sensors and Touch Function
| | |
| --- | --- |
| Specification: | |
| Brand: | Xiaomi Amazfit |
| Headphones Model: | A1965 |
| Case Model: | A1967 |
| Headphone Battery Capacity: | 55 mAh |
| Case Battery Capacity: | 450 mAh |
| Headphone input: | 5V 0.12A |
| Case Input: | 5V 0.5A |
| System Requirements: | Android 5.0 or later, iOS 10.0 or later |
| Wireless Connection: | Bluetooth 5.0, BLE |
| Water and Dust Resistance: | IP55 (headphones only) |
| Output: | 5V 0.25A |
| Operating Temperature: | 0 ℃ ~ 45 ℃ |
| Operating Standard: | Q / HM 07-2019 |
| Color: | Black |